About the author
François

Planchu

:
Painter

,

Graphist

and

Sculptor

For a good part self-made man, I learned to draw by copying the Franco-Belgian comics's masters and watching the nature. Then I took evening classes at the Nantes's Fine Arts school. And then, I studied with some senior artists to enlarge my graphic horizon and refine my technic.

Professional since 2011, I'm french and I live in France, in Nantes (44 - Loire-Atlantique).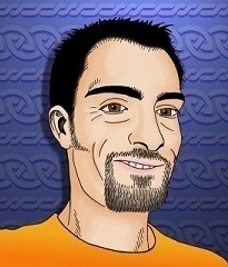 Manifest
I am particularly focused on the graphic narration and the representation of bodies in motion. After many years of drawing, I'm now enlarging my ways of expression starting with painting and volumes.
I fed myself with pictures picked from my everyday life or from daily news. I mix them up and distills these visual impressions to craft them as messengers of my questions about the world:
How much space is still there for humans in a world more and more driven by machines?
How much room is still there for our animal side in such a civilized society?
How free space left to allow our bodies to express their imperfections and their necessary mutations in a appearance centric and control-obsessed culture?
I translate to my own good the fashion and popular culture's codes and I inject into it my bit of madness and an alternative vision, which I hope, will invite you to think about.
I feel close to the Gothic and Steam-punk subcultures and some well known alternative artists such as Tim Burton or Jean-Pierre Jeunet.
For any questions, please:Contact me
---